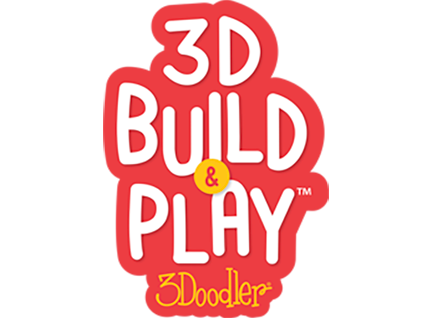 Pen Sets
Simply turn on the 3D Build & Play, insert a colorful strand of material, and crank the handle to bring animal characters to life.
How it Works
Crank away with the 3D Build & Play and special molds to create your own stories in 3D. As a tactile learning toy, 3D Build & Play teaches fine motor skills, hands-on learning, and three-dimensional thinking, all while having a ton of fun. Using low-heat, BPA-free and non-toxic plastic, 3D Build & Play is completely safe for kids to use.
Features
Create in 3D in Seconds
3D Build & Play by 3Doodler allows parents and kids to create in 3D in seconds.
Teaches
Fine motor skills
3D thinking
Hands-on learning
Easy to Use
Designed to be fun and easy to hold and use, the crank can be moved for left or right-handed users.
Frequently Asked Questions
Is the 3D Build & Play safe for children?

Completely. The 3D Build & Play and filaments are specially designed to be completely safe for kids of ages 4 and above. There are no hot parts on the exterior of the Build & Play, and the filaments are non-toxic, BPA-free, and completely biodegradable in your household compost.

Is the filament hot when it comes out of the pen?

The filament is warm, but completely safe to touch when it emerges from the tip of the 3D Build & Play. You can safely use your hands to shape your Doodles to perfection.

Does the 3D Build & Play need to be plugged in?

Good news! The 3Doodler Build & Play is completely cordless, and works with 3x AA batteries (not included).

Is the 3D Build & Play compatible with other 3Doodler filaments or accessories?

The 3D Build & Play works with the same filaments that the 3Doodler Start uses, as well as all of the 3Doodler Start accessories. Note that it is not compatible with any 3Doodler Create or PRO filaments or accessories.