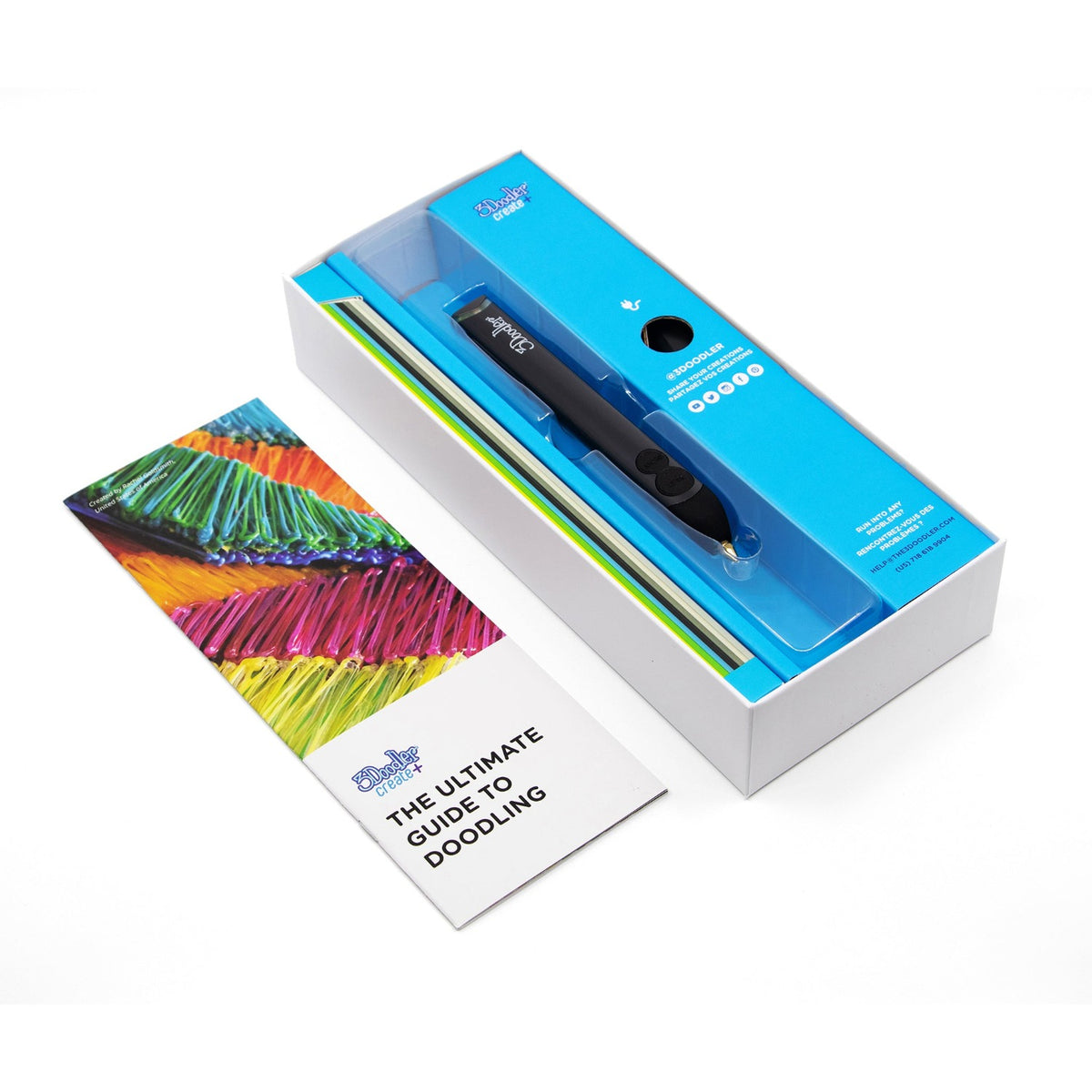 3Doodler Create+ Essentials 3D Printing Pen Set
New Item!
The latest version of the world's first 3D Printing Pen: Dual-drive technology features improved power durability and reliability for anyone ages 14+.
No Learning Curve: No complicated software or hardware learning curve. Just plug in, turn on, add plastic, and begin creating!
Safe and Environmentally Friendly: The BPA-free, non-toxic 3Doodler Create plastic refills are industrially compostable and/or recyclable!
Take your doodling to the next level by creating cool new textures and designs with the 3Doodler Create Nozzle Set.
Product Details
The latest version of the world's first 3D Printing Pen! Now with dual drive technology, the all new Create+ is re-engineered to give you an ultra smooth and enhanced Doodling experience. 
Improvements include enhanced durability, greater control in fast/slow speeds for different Doodling techniques, and a more reliable performance with different plastic types, including ABS, PLA, FLEXY, and WOOD.
Whether you're a hobbyist, DIYer, designer, or professional artist, the Create+ offers a whole new way to create and fix. Extrude heated plastic that hardens almost instantly, so you can draw 3D structures, freehand or on stencils. Our non-toxic plastic refills are made in the USA, the UK, and Spain to ensure the highest quality possible. We've seen our community use 3Doodler pens to create unique art, fix things, design wearable items, build models, and so much more! #WhatWillYouCreate?
Warranty
365 Day Warranty: We deliver on our promises, and our awesome customer service team is always here to help! Know that you can contact us at help@3doodler.com if you have any questions or concerns.
Shipping Info
Usually dispatches within 1-2 business days, delivery options available at checkout.
In the Box
1x 3Doodler Create+ 3D Printing Pen
75x 3mm PLA Plastic Strands in 15 colors
1x Power Adapter
1x Set of Tools
1x Ultimate Guide of Doodling with 5 projects
1x User Manual
SKU
8CPSBKAU3E
Item Weight
0.56 kg
Frequently Asked Questions
What plastics can I use with the 3Doodler Create?

The 3Doodler Create is compatible with official 3Doodler ABS, PLA, and FLEXY filaments. Please do not try to use the 3Doodler Create with any third party filaments, or 3Doodler filaments exclusively for the 3Doodler PRO or the 3Doodler Start.

Does 3Doodler plastic emit harmful fumes?

3Doodler plastics have been tested for heavy metals, and have undergone full toxicological risk assessments, passing each and every test. Some users notice a slight "plasticy" smell when using ABS. Many users prefer the smell of PLA, which, being corn based, can smell like popcorn. No matter what material you're using, and whether you're using a 3Doodler or a traditional 3D printer, we recommend working in a ventilated area.

What kind of maintenance is required?

The 3Doodler does not require much in the way of maintenance. Please see our other FAQ in the event of feed issues or jams, or feel free to contact us by emailing here: help@the3doodler.com
Speed Control
Speed Control
Greater control using fast & slow speeds. Fast mode allows you to Doodle big areas faster, & slow mode is perfect for intricate details.
Dual Temperature
Dual Temperature
Optimized temperature control ensures more reliable performance with all 3Doodler ABS, PLA, FLEXY Plastics
Easy to Use
Easy to Use
Easy one-click start and stop. Double click to reverse.
-->
Over 2,500,000 Happy 3Doodlers!